CLAPPERBOARD | LOGGER | PROMPTER | STORYBOARD
all in one app. ALL synchronized.
DO YOU LIKE PROJECTS?
WE DO.
Everything starts with a good project. The same is for DSLR Clapboard: start with a new project, and all the data you will be dealing with (scene, take, audio setup, video, location, roll number, but also storyboard and prompter sync infos) will be listed in the log history, sent via mail and stored for future reference.
You can start different projects and work on each of them separately: the system will take care of each of them retaining the right information, displayed at the right moment.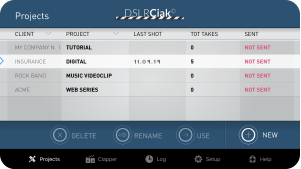 A CLAPBOARD
JUST THE WAY
YOU LIKE IT.
CUSTOMIZE EVERY ASPECT
OF THE SLATE.
What information would you like your slate to display? How would you design it? What data is more relevant to your editor during post-production?
With DSLR Clapboard you can take advantage of its full customization to manage every single aspect of your shot.
You have 6 ready-to-use templates, from the basic to the complete ones, but you can start from scratch and design your own slate choosing from a list of 20 items.
And, if it's not enough, you have 4 custom items.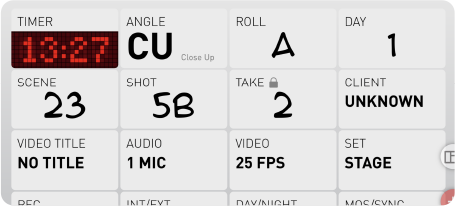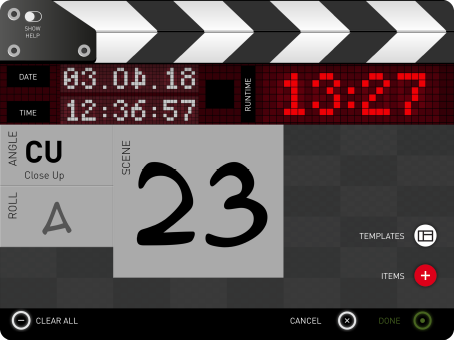 Each item has it's type of data: some have a free text field you can edit as you prefer, others are predefined (like audio and video setup, set, etc...). You can customize their content, as well, in the setup page of the app.

FULL DETAILS FOR FULL CONTROL.
SETUP EVERY ASPECT OF THE APP..
You can customize the behaviour of many details of the app with a few taps, like adding a default recipient for the log history or using the dark version. You can add a countdown to the slate (from 1" to 3") and disable the auto-advance feature of the takes.
But you can go deeper: you can edit the contents of the main items on the clapboard: Angle, Audio, Video, Set, Rec have labels you can modify at your needs.